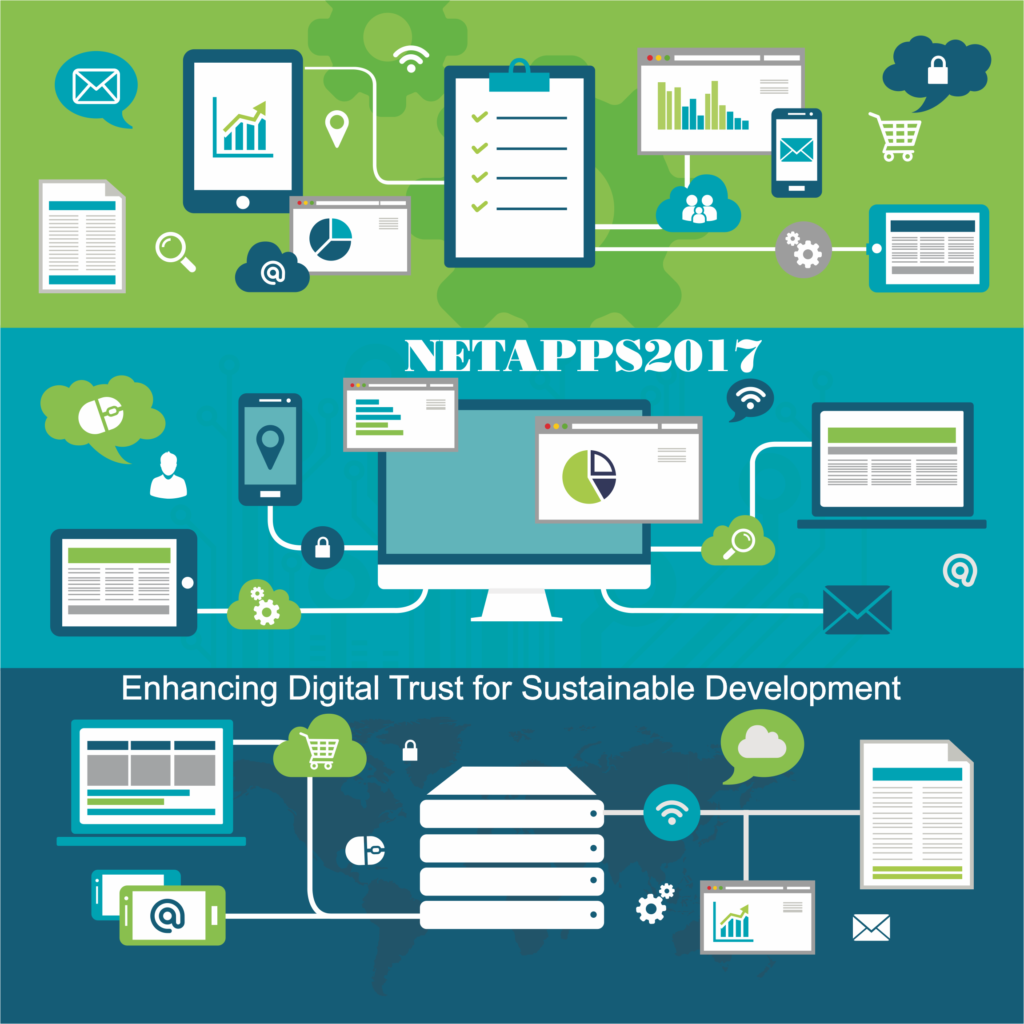 We take great pleasure to invite you to submit research article in the 2017 Fifth International Conference on Internet Applications, Protocols, and Services (NETAPPS2017) which will be held at Surakarta, Indonesia. This year conference aims to bring together innovative academics and industrial experts to a common forum. We would be delighted to have you present at this conference to hear what the technology experts and researchers have to share about the internet technology advancements and their impact on our daily lives. The main goal of this conference is to serve as an affordable platform to promote greater engagement of network researchers from around the globe, notably from the ASEAN and the Asia Pacific region, in the Internet research activities principally on those related to the work of Internet Engineering Task Force (IETF) and the Internet Research Task Force (IRTF).
This year conference theme is "Enhancing Digital Trust for Sustainable Development." The NETAPPS2017 seeks papers describing original research contributions to the field of Internet computing and communication networks, with specific thematic focus on cybersecurity, digital trust and privacy, including but not limited to the following topics:
Emerging Internet applications
Internet of Things
Blockchain technology and applications
Network data analytic
Information/Content Centric Network
Content distribution networks
Peer-to-Peer and overlay networks
Internet security, privacy and trust management
Intrusion Detection, Malware, Botnet, Spam Detection
Internet Architecture design and evaluation
Disruptive Tolerant Network
Routing, switching, and addressing
Internet Performance Studies
Internet traffic monitoring, engineering and management
Techniques for network measurement and simulation
Mobility support in current and future Internet
Wireless, mobile, and sensor networks
Software Defined Network and Network programming
Cloud and Grid Computing
Energy-aware Internet communication
Digital home and Smart Cities Applications
Telematics Applications
Storage area networks
Mobile and Location-based Services
Web Services and Applications
Experience from implementations and experiments
Economic and governance aspects of the Internet
Internet Commerce and E-Health Applications
Official Wesite: https://netapps2017.uns.ac.id/
Conference Venue: Solo Paragon Hotel and Residences, Surakarta, Indonesia.
Conference Date: October 10-11, 2017.
Full Paper Submission: 06 April 2017.
Notification of Acceptance: 1 July 2017.
Camera Ready Submission: 15 July 2017.
Early Bird Registration: 15 – 31 July 2017.
Final Payment: 31 August 2017.
All accepted and presented paper will be proudly submitted to IEEEXplore for further indexing.
Extended version of selected papers will be invited to submit to the Journal of Information and Communication Technology (JICT), Scopus indexed journal.
We Request you to forward this email to your colleagues/Researchers/students in order to promote the conference. Please take the time to explore the website for more details, check on important dates, and keep yourself up to date on recent changes.
Please feel free to contact us for further inquiries. We are looking forward to see you at Surakarta, Indonesia.
http://if.fatisda.uns.ac.id/wp-content/uploads/2017/07/NETAPPS-1024x1024.png
1024
1024
Informatika UNS
https://if.fatisda.uns.ac.id/wp-content/uploads/2016/08/LOGO.png
Informatika UNS
2017-05-01 01:46:21
2017-07-17 01:49:03
Call for Paper NETAPPS 2017: The 5th International Conference on Internet Applications, Protocols and Services